Bach 3C Trumpet Mouthpiece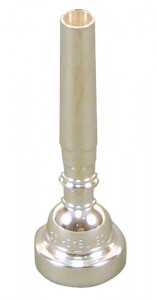 The Bach 3C is about as standard a trumpet mouthpiece as you can get and is usually the first step-up mouthpiece from the beginner's 7C. Mouthpieces are such and individual matter, and many players find different mouthpieces work for them. But the Bach 3C Trumpet Mouthpiece is different, so before you go off and spend a bunch of money in search of the perfect piece, invest a small amount in this one and play on it for a bit.
This will help you get to grips with a 3C mouthpiece and may persuade you to stick with Bach products. Bach are known for their quality and durability and the Bach 3C Trumpet Mouthpiece is no exception to this standard.
Bach 3C Trumpet Mouthpiece:
Quality Build
Medium Cup
Diameter 16.30 mm
Allows for a greater range and better tone quality
Great for intermediate to advanced players