Bontempi Toy Trumpet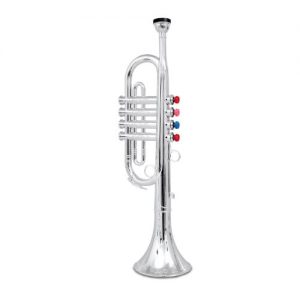 The Bontempi toy trumpet is a great fun toy to get kids interested in music.
The Bontempi toy trumpet is 16.5″ long and it has four keys that can play different notes, and these keys are color coded with seven different colors which makes it easy for children to understand the difference between pressing each key.
This item comes with three easy to play with easy to follow instructions.
Recommended for children 3 years and up, and it will help encourage youngsters to take up playing.
This silver metallic toy trumpet is a very affordable present, and can be yours with next day delivery.