Mutec MTC-3C-CL Trumpet 3C Clear Plastic Mouthpiece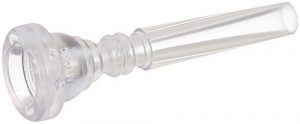 The Mutec plastic trumpet mouthpieces are designed as an ideal starting point for any beginning player or a pro looking for a new mouthpiece.
These plastic trumpet mouthpieces are engineered and carefully manufactured to provide a dimensionally consistent product and produce a clear crisp sound, and the nature of the material produces less fatigue and increases the endurance of most trumpet players.
Many players with braces have stated they enjoy more comfort playing with a plastic mouthpiece as opposed to a traditional silver plated brass mouthpiece.
These mouthpieces are made in the USA and are ideal for outdoor performance, as they will not conduct heat or cold.