Kids Starter Trumpet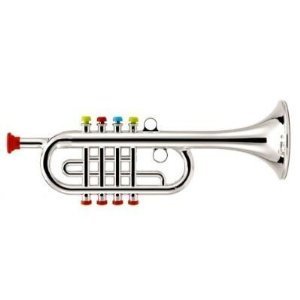 Toot your own horn with this realistic starter trumpet. Designed to replicate the look and feel of a real chrome trumpet, this kid-sized instrument features color-coded keys for easy to learn notes and songs. Blow into the mouthpiece and press the keys to produce on-key sounds. Made from phthalate-free plastic.
Why You'll Love It: This portable wind instrument inspires big band creative play ideas.
Color-coded keys

Phthalate-free plastic

 
Realistic trumpet for budding musicians
Color-coded keys
Phthalate-free plastic