Trumpet For Dummies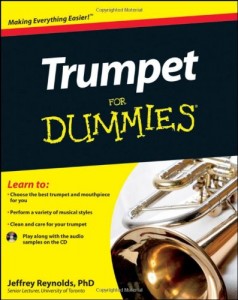 How to get a good sound, read music, and master a variety of styles-including classical, pop, jazz, and Latin
Listening to a trumpet trilla series of high notes during a military march or wail longingly during a blues rendition-is a pleasure second to none. And masters, including Wynton Marsalis and Louis Armstrong, have made the trumpet truly Gabriel's horn, one of the most eloquent voices in classical music and jazz. Yet even a virtuoso begins somewhere. This down-to-earth and user-friendly guide shows those new to the trumpet everything they need know to play the instrument-from basic technique (including getting a good sound), caring for a trumpet, and learning pieces from many musical genres.
Demonstrates how to play classical, pop, jazz, and Latin-with audio samples on the enclosed CD-ROM
Includes tips on how to buy or rent the best instrument
An ideal guide for students just learning the trumpet, or students who need a little boost, or fans of the trumpet who've never got around to learning it, here is the complete guide to making one of the world's most popular-and beloved instruments-their own.
Editorial Reviews
From the Back Cover
The fun and easy way to learn trumpet!
Discover how to blow your own horn with this friendly, easy- to-follow guide. From proper posture and playing your first note to making music in a variety of styles, including classical and jazz, this book gives you all the techniques you need.
Get to know the essentials — learn to read music notation,and investigate the foundations to successful trumpet playing,including good posture and relaxed breathing
Stay in practice — establish a rewarding practice routine with a helpful warm-up and fun and challenging exercises that will keep you improving
Polish your skills and sound — develop a full range of notes, from the lowest lows to the highest highs, and fine-tune your sound with articulation and vibrato
Build a repertoire — play a wide range of well-known songs, from lovely lyrical etudes to rousing marches to swinging jazz tunes
Care for your instrument — get to know how to maintain your trumpet, and equip yourself with all the gear you need, including mutes, stands, and cases
Audio CD-ROM
Listen to and play along with musical examples in the book
Please see the CD appendix for details and complete system requirements.
Open the book and find:
Tips on buying a new or used trumpet
The right way to form a trumpet embouchure
How to improve your breathing and endurance
Duets to enjoy with another player (or with the CD)
Ornamentation and special effects to liven up your playing
How to get involved with community bands and orchestras
When and how to find a trumpet teacher
Ten bad habits to avoid
Learn to:
Choose the best trumpet and mouthpiece for you
Perform a variety of musical styles
Clean and care for your trumpetPlay along with the audio samples on the CD