Yamaha SB79 Silent Brass System for Trumpet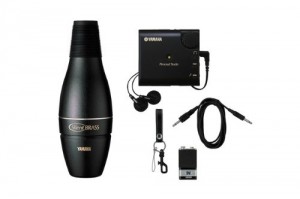 The Yamaha SB79 silent brass system is one of the most reliable systems on the market for this reason they are often recommended by pros if you are looking to practice without annoying everyone around you. The complete portable and soundproof system is the most innovative product for brass instruments since the valve. With Silent Practice you'll hear the sound that you play inside the earphones so rich and full you'll think you are standing on a concert hall stage.
The Yamaha silent Brass System is perfect for when you want to play your trumpet without causing a disturbance. If you wish to practice late at night then the SB79 is perfect for you. You don't have to worry about waking up your friends and family, nor will you have to wait until you are home alone to practice.
Yamaha's SB79 Silent Brass System offers the advantage of playing your trumpet in places you couldn't before.
The internal electronics can also enhance the sound digitally, to mimic the acoustics of a larger room.
You can play along with your favorite pre-recorded music by plugging in a CD player thanks to the SB79 and you can also use the output jack to connect to an external amplifier or recorder to share your music with others.