Yamaha Trumpet Maintenance Kit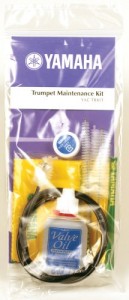 It is important to regularly clean and take care of your trumpet, and if you fail to do this then you risk damaging your horn and it certainly will not be cheap to fix it. This is one of the best maintenance kits on the market and is extremely affordable. You know what you are getting from a Yamaha product as they will only include the very best materials.
This maintenance kit comes with everything any horn player could possibly need, and let's face it, no matter what your experience level is you will need a good maintenance kit to keep your trumpet smart and in good working order.
The Yamaha trumpet maintenance kit includes:
valve oil
slide grease
snake
valve casing brush
mouthpiece brush
polishing cloth
all in one trumpet care kit