Anaxa Brass Concert Band Trumpet – Blue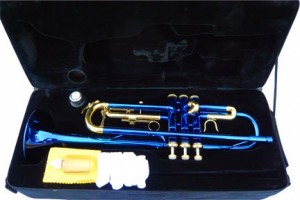 This Anaxa Brass Concert Band Trumpet has a unique blue finish to make you stand out from the rest of the band. The Anaxa Brass Trumpet sounds just as good as the more expensive models the only real differences between the two models is the weight, if you don't mind having a trumpet that carries a bit of weight then this is the ideal model for you. For its sound alone most music tutors and schools will recommend this trumpet for beginners, as it sounds just as good as a high end trumpet just without a ridiculous price tag.
The Anaxa Bb trumpet has a rich tone, superior craftsmanship, and is at an affordable price, to make it one of the best trumpets on the market. You will enjoy the fast smooth valve response, smooth slides, and an easy blow which produces a beautiful sound.
Anaxa trumpets have been highly recommended by teachers and musicians for years. They are known for their quality and durability, if you buy an Anaxa trumpet you know what to expect and it will be one that will last you for many years. This trumpet is perfect for both beginners and experts, its lightweight feel appeals to all. Every instrument has a serial number and all instruments are shop adjusted before shipping.
Features:
1st Valve Slide Thumbhook
3rd Valve Slide Ring
White gloves, valve oil and cleaning cloth included
Luxury plush lined hardshell case
100% satisfaction guaranteed