Anaxa Brass Concert Band Trumpet – Brass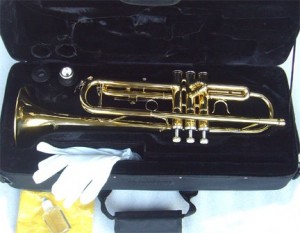 The Anaxa Brass Bb trumpet, is a beautiful horn that has been specifically designed for concert players. It's rich tone, superior craftsmanship, and affordable price makes it an opportunity you cannot miss. It is hard to beat this trumpets value for money. This trumpet has a fast smooth valve response, smooth slides, easy blow and a beautifully rich sound.
Anaxa Brass trumpets have been highly recommended by Teachers & Musicians for years! This trumpet is perfect for beginners, with its durability and sleek design your trumpet will look and sound the part while you begin to learn this amazing instrument.
The Anaxa Brass trumpet has been deemed concert worthy which shows you how confident the brand is with the quality of this trumpet. This Anaxa brass trumpet has a very distinguished sound that often rivals the quality of massive brands such as King and MayBach. It's gorgeous design will help you stand out from the rest of the trumpeters.
Specifications:
Brass Anaxa Trumpet
Anaxa 7C mouthpiece
Hardshell case with plushed interior
Pair of white gloves
Small bottle of valve oil