Anaxa New Concert Band Silver Plated Trumpet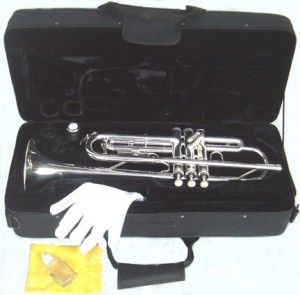 This Anaxa Bb Concert Band trumpet is silver plated and is a great choice for trumpeteers of all standards.
Its rich tone, superior craftsmanship, and affordable price make it great value for money. It offers fast smooth valve response, smooth slides and is an easy blow with a beautiful sound. Anaxa Trumpets have been recommended by teachers and musicians for many years!
Every instrument has a serial number and every instrument is shop adjusted before shipping.
1st Valve Slide Thumbhook
3rd Valve Slide Ring
White gloves, valve oil and cleaning cloth
Luxury plush lined hardshell case
100% Satisfaction guaranteed