Journey's Steve Perry Bb Silver Plated Trumpet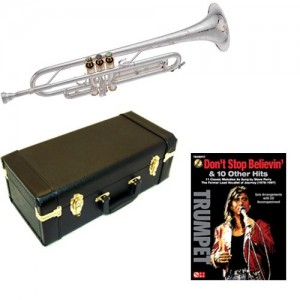 Band Directors Choice Bb Silver Plated Trumpet Pack
Includes Intermediate Bb Silver Plated Trumpet with case, accessories and a Play Along Book.
Band Directors Choice Bb Silver Plated Trumpet Pack features a hand hammered, one piece custom engraved bell, Bore: .459″, Bell: 4.92″, monel valves, gold plated valve caps, pearl finger buttons, rose brass lead pipe & reverse tuning slide.
Package includes plush lined deluxe case, mouthpiece and valve oil and a play along book.
The Play Along Book features 12 favorites from Journey and Steve Perry's solo career, including: Any Way You Want It • Don't Stop Believin' • Faithfully • Lights • Lovin', Touchin', Squeezin' • Open Arms • Separate Ways (Worlds Apart) • Wheel in the Sky • and more.
A great value pack, available with fast delivery.