Barrington BR TR401 Bb Classic Silver Plate Trumpet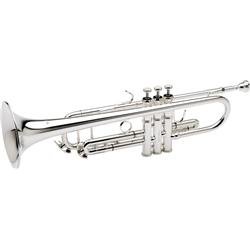 The BR TR401 rivals some of the best trumpets around at third of the price. This trumpet is a thing of beauty that has a sound that cannot be matched by inferior trumpets, when you are heard playing the BR TR401 other horn players will know that you own a high quality trumpet.
Barrington trumpets have long been the number one choice for the advanced and professional player who wants the sound and performance of a professional trumpet without the high price tag.  This Barrington trumpet with its one piece bell fits the demand for this type of premium instrument. The Barrington TR401 Trumpet produces a full dynamic sound that is both powerful and beautiful.
Silver plated for beauty and sound
One piece bell and soldered bell ring for brilliant tonal quality.
459. Medium large bore for all round playing
1st and 3rd finger rings for intonation
Gold brass bell and leadpipe for sound and durability
Case and mouthpiece included