Bartok ROS1145S Trumpet – Silver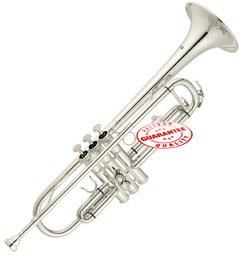 The Bartok ROS1145S is a premium quality trumpet. It has a sleek silver finish and a European bell brass. This is a fine quality instrument worthy of a player with a year or mores experience. Not to say that a beginner wouldn't be able to play this horn, but the ROS1145S has been designed for more experienced players, either way you won't be disappointed by this beauty. The ROS1145S premium springs and top rated smooth action piston valves for long instrument life.
Bartok are a well known trumpet brand, they are known for making attractive instruments that have a unique and rich sound. This is why tutors will often recommend a Bartok trumpet to their more experienced pupils. The Bartok ROS1145S Bb trumpet package includes a custom case with a shoulder strap; mouthpiece and gloves.