Conductor Model 200 Bb Trumpet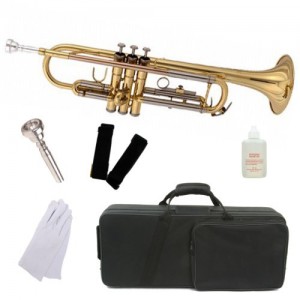 Conductor Model 200 Bb Trumpet with Case, Mouthpiece and 1 Year Warranty
If you are looking for a great trumpet at an affordable price, you have found it in the Conductor Model 200 trumpet. It is a top quality student instrument which is approved by teachers and used in schools and band programs throughout the country.
The Conductor Model 200 trumpet is beautiful lacquered brass and comes complete with a carrying case and 7C silver plated mouthpiece. The tone is outstanding and it is an excellent outfit for students of all ages.
Each instrument comes with a full 30 day "unconditional" money back guarantee. Why purchase a used instrument, when you can have a brand new one with a warranty.