Hallelu HTP-200 Bb Trumpet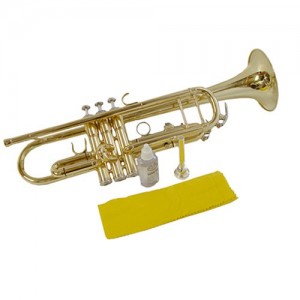 If you are looking to learn how to play the trumpet then this is the ideal trumpet to get started with. You might be told by music tutors that you should try renting at first but our advice is to always buy, as you will save yourself a lot of money in the long run. This Hallelu HTP-200 is an ideal starter high quality trumpet that comes with a clear crisp sound that sets it apart from other beginner trumpets.
Not only does this beginner trumpet sound better than most of its competitors, it also comes at a great price. The Hallelu HTP-200 is a student trumpet that really stands out from the rest, with its rich and unique sound. You find that a lot of trumpet brands overcharge for beginner kits, this is not the case for the Hallelu HTP-200.
Features:
Key of Bb. 5″ bell
Adjustable 3rd valve slide with finger ring
Nickel double water keys
Brass lacquer finish
ABS case
Silver plated 7C mouthpiece