Hawk WD-T314-WH Bb Trumpet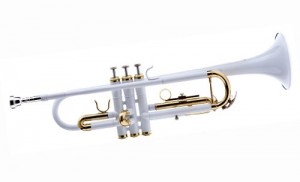 This beautiful colored B Flat Trumpet is ideal for the beginner trumpeters. This trumpet has been created with beginner players specifically in mind, it has a great feel to it that will allow even a complete novice to get used to this amazing instrument. The Hawk WD-T314-WH trumpet is used in many forms of music, including Classical, Jazz, Rock, Blues, Pop, Ska, Polka, and Funk, to name a few.
The WD-T314-WH Trumpets are in the key of Bb and have a beautiful lacquer body. The bell size is 123mm and a bore size of 11.66. These Trumpets have everything you need to get started with your new Trumpet. Case included. Available colors Black, Red, Green, Blue, Purple and White.
Features:
B Flat: Bb key
Material: Brass body
Size: Bore size 11.66mm, bell diameter 123mm
Finish: lacquered
Includes a durable case and mouthpiece