Hisonic 2110L Bb Trumpet – Brass Finish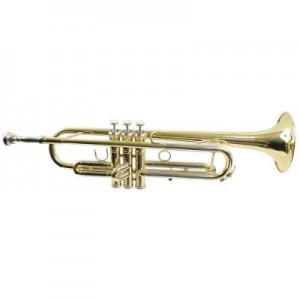 This Hisonic 2110L is an affordable student trumpet and a great option for student horn players. If you are looking for a trumpet to get started with but don't want to spend a lot of money then this trumpet is perfect for you. Hisonic are a high quality trumpet brand that come highly recommended by most music schools and tutors because of its lightweight design, ease of use and beautiful sound.
The 2110L's brass finish has a professional look to it that really sets it apart from other student trumpets. It has a gorgeous design that really amplifies the horns sound and you wont have to worry about the valves sticking on this trumpet as they have been perfectly designed to reduce valve friction and sound reduction.
This might be a student trumpet, but you wouldn't know it from the sound this gorgeous horn produces, the only difference between the 2110L trumpet and a King 2055S is the weight and ease of use. This highly recommended trumpet is perfect for beginners but will make you look like a pro! You will not find a better trumpet around for sound quality, weight and ease of use at this great price.
2110L Product Features
Bb Trumpet, 5 Inch Bell, Brass Finish
Excellent Tone, Great Response
Includes a hard shell (ABS) protective plush lined case and mouthpiece
This is the standard Trumpet used for marching band, orchestras
Skill Level: Beginner to Intermediate