Jean Baptiste TP483LE Lacquer Trumpet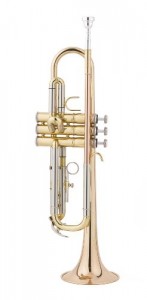 The Jean Baptiste TP483LE Student Trumpet is one of the most feature-rich student trumpets on the market, sharing many of the same technical characteristics and tonal qualities as professional trumpets. Beginners are more likely to continue on with an instrument when they start with a well made, reliable one.
The Jean Baptiste TP483LE Student Trumpet is the perfect first step in any trumpet player's journey. The TP483LE's body is constructed of yellow brass, while its outer tuning slide is made of nickel silver for added strength and durability.
Unlike other trumpets in its price class, the TP483LE features a gold brass bell (5-inch) and leadpipe for a warmer sound than the traditional student trumpet, and is finished in a lacquer to show the beauty of these contrasting brasses. It also has three monel-plated valves for excellent durability and slotting–the same valves you'll find on many pro-level trumpets.
The TP483LE is also available in beautiful silver plate finish. In addition, the trumpet features beautiful engraving on its bell.
All Jean Baptiste instruments are inspected at the Jean Baptiste factory, and again at headquarters to ensure that every instrument will provide a worry free experience right out of the case. Every Jean Baptiste instrument is backed by a 1-year warranty to cover manufacturer defects.
5-inch gold brass bell
leadpipe.459-inch bore: Medium Large bore
Yellow brass body
Nickel silver tuning slide
Three monel-plated valves
Available in lacquer and silver plate finish
Case and 7C mouthpiece included
Key of Bb 5-inch gold brass bell