Jean Paul USA TR-330 Trumpet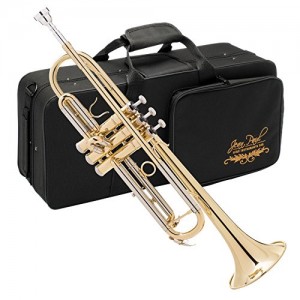 The Jean Paul USA TR 330 trumpet offers students an opportunity to learn a band instrument at an affordable price. Jean Paul trumpets are well known for their great sound and low prices. Music tutors around the world suggest that their students pick up a Jean Paul trumpet, they are a great way to learn this new instrument that ensures high quality sound without breaking the bank.
The TR-330 trumpet provides a generous bore that makes playing easy and helps beginner band students hit notes accurately. The TR-330's rose brass lead pipe construction helps produce warm tones that are well centered. The same pipe and bell also contribute to great sound projection so you'll be heard when you're performing in the school band practice room or outside when marching.
If you want to stand out from the rest of your band mates then the Jean Paul TR-330 is the perfect choice for you, it has a much higher quality tone compared with other beginner trumpets. As soon as you start playing the TR-330 you will hear the difference and so will the audience you are playing in front of. The Jean Paul TR330 also comes with a hardshell case that will keep it safe from all situations you can imagine.
Fast delivery is offered on this product.