LJ Hutchen Bb Trumpet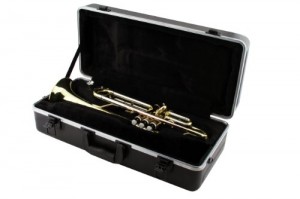 An LJ Hutchen trumpet is significantly different from other brands.
This instrument allows young musicians to learn without the frustration that comes with playing a poorly designed product. The materials used throughout the LJ Hutchen trumpet are simply the best that money can buy. Every instrument is double-bench tested and meets the most stringent level of quality before leaving our facility. LJ Hutchen instruments are an outstanding option for student musicians. Pricing and warranty terms are the best value offered in the instrument market today. Because LJ Hutchen trumpets are predominantly used by students, we believe that high quality is not only necessary, but is imperative for successful music education.
Professional bell and bore size for ideal sound, resonance, and intonation