Legacy Intermediate Trumpet TR750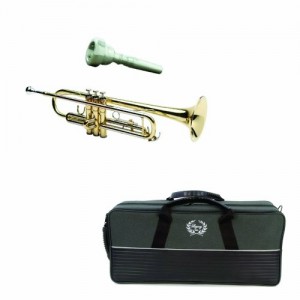 The Legacy TR750 trumpet is the step-up trumpet in the Instrument store product line. It is the upgrade to the TR750 Conductor student trumpet. It is an outstanding value and offers Monel valves, silver nickel trim and double brace construction like the great pro horns. It has great tone and has top quality construction and kids and parents will love it. We sell similar trumpets for over $500 from the national brands.
Our instruments are made at the same factories as the large national brands, often costing three times as much for the same instrument. We are able to sell them directly, saving you hundreds of dollars in "middleman" markup. Why pay more if you don't have to. This trumpet meets the needs of parents who would prefer to buy a new trumpet rather than rent one that has been used for several years. This trumpet is teacher approved and comes with a 2 year warranty against defects. Bring it to your teacher for their approval and we offer a 30 day absolute money back guarantee.
You can buy the TR750 trumpet with confidence and have your student trumpet start playing right away, with a brand new instrument. The TR750's super duty case will protect the instrument from the rough handling given by students. This is one of the best trumpet we sell for under $300!!