Mendini MPT-N Nickel Plated Bb Pocket Trumpet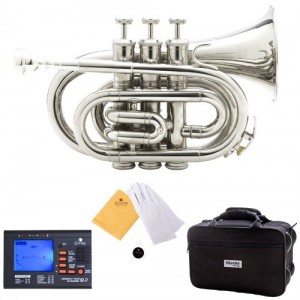 The Mendini MPT-N is a fantastic pocket trumpet that will rival most horns on the market with its incredible sound. Pocket trumpets are small horns that contain a powerful and rich sound. They are specifically designed to be lightweight and powerful meaning the only time you will know you have a trumpet is when you are belting out a tune. Great for playing on the go these extremely durable trumpets are recommended by music schools and tutors for their rich sound and ease of use.
Mendini by Cecilio pocket trumpets are ideal for beginner or student musicians and the MPT-N is no exception. This pocket trumpet features a phosphorus copper lead mouth pipe, topped with 3 comfortable white mother of pearl key inlaid and 3 smooth action valves. Every pocket trumpet is play tested at Cecilio's factory and re-tested at their Los Angeles distribution center to ensure that their high quality standards are met. This is why thousands of instructors have approved these trumpets.
This pocket trumpet package includes a plush-lined nylon covered hard shell case with backpack straps (making it convenience to carry to school or band practice), a pair of gloves, a soft cleaning cloth, and a bottle of valve oil. Buy with confidence as it comes with a 1- year warranty against any manufacturer's defects.