Mendini MTT-L Lacquer Brass Bb Trumpet, Gold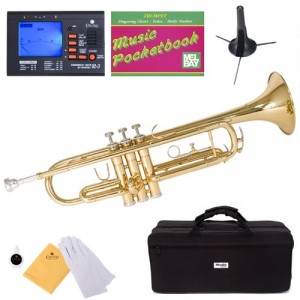 Mendini trumpets are ideal for beginner or student musicians. They have been specifically designed for beginners and student trumpet players to help them get used to playing this magnificent instrument. The Mendini MTT-L trumpet is ideal for all wannabe trumpeters for its quality sound and affordable price.
The Mendini MTT-L brass trumpet features a phosphorus copper lead mouth pipe, topped with 3 comfortable white mother of pearl key inlaid and 3 smooth action valves. Every trumpet is play tested at Cecilio's factory and re-tested at their Los Angeles distribution center to ensure that their high quality standards are met. This is why thousands of instructors have approved Mendini trumpets.
This Mendini MTT-L comes with a plush-lined nylon covered hard shell case with backpack straps (making it convenient to carry to school or band practice), a pair of gloves, a soft cleaning cloth, and a bottle of valve oil. The 7C mouthpiece suits this trumpet perfectly and really gives it a sharp sound that other beginner trumpets can't compete with.
Buy with confidence as it comes with a one year warranty against any manufacturer's defects.