Merano B Flat Gold Trumpet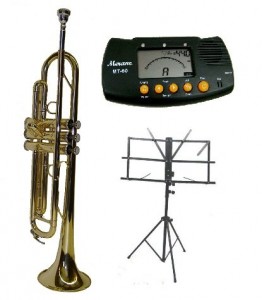 This Merano B flat gold trumpet is an ideal starter kit for any aspiring horn player. This trumpet comes with all the kit you will need to get started. Merano trumpets are often used by music tutors and schools because of their great sound and the ability to pick up the instrument easily. The Merano B Flat trumpet is perfect for all those looking to learn how to play.
Merano are a very prestigious brand that have been making high quality trumpets for many years. They have a bespoke design that other trumpets just can't match, that is why so many trumpeters choose Merano. This Merano B flat trumpet is a stylish horn that will set you apart from other trumpet students.
The Merano B Flat Gold Trumpet comes with everything a student trumpeter would need. The perfect starter kit includes a case, mouth piece, valve oil, metro tuner and a music stand. With all this great equipment you will have everything at your disposal to become a good trumpeter.
Features:
Gold lacquer plated trumpet
B Flat Key
Nickel plated mouthpiece
Hardshell velvet lined carrying case
A pair of White Gloves; Metro Tuner; Music Stand