Sky Band Blue Lacquer Brass Bb Trumpet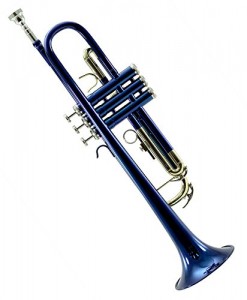 Sky Band are a relatively well known trumpet brand that specialise in designing beginner trumpets. If you are looking to pick up this great instrument then starting off with a sky band trumpet is a great idea, Sky Band trumpets are very easy to pick up but are of a much higher quality than most beginner trumpets.
Features:
● This trumpet is beautiful and well engineered, precise fits and perfect round tubing resulting in less turbulence and smooth air flow.
● Phosphorus copper on entire body, found on professional trumpets. One time drawn body, therefore there are no seams found on this high grade dual tone trumpet.
● The exquisite hard case made with velvet lined interior, elegant and stylish.
● This trumpet is completed with a durable hard shell case, gloves lube oil & cleaning cloth.
● Perfect for beginning to professional trumpet player.
Sky Band Approved Ocean Blue Lacquer Brass Bb Trumpet with Case, Cloth, Gloves and Valve Oil, Guarantee Top Quality Sound, Blue