Sky Band Bb Trumpet with Case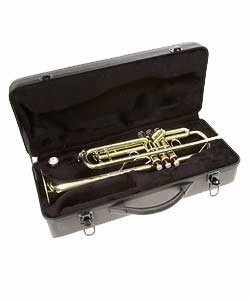 Sky Band are a brand that are known for their high quality beginner trumpets, if you are looking to pick up this great instrument then look no further than this fantastic trumpet. Sky Band trumpets are very easy to pick up but are of a much higher quality than most beginner trumpets. This is a great deal that must not be missed, it's not often that you find a Sky Band trumpet priced under $400 let alone $200.
Features:
● This trumpet is beautiful and well engineered, precise fits and perfect round tubing resulting in less turbulence and smooth air flow.
● Phosphorus copper on entire body, found on professional trumpets. One time drawn body, therefore there are no seams found on this high grade dual tone trumpet.
● The exquisite hard case made with velvet lined interior, elegant and stylish.
● This trumpet is completed with a durable hard shell case, gloves lube oil & cleaning cloth.
● Perfect for beginning to professional trumpet player.