Student Gold Bb Trumpet School Package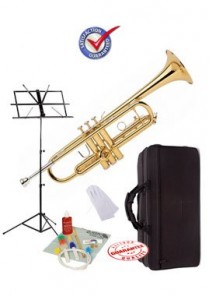 You want to have a quality trumpet but you don't have a fortune to invest. Here's your solution! This student trumpet is perfect for those just starting out with the instrument. When you ask tutors and music schools what you need for starter kit you will get a long list of unnecessary items, this starter kit has everything you will need and at half the price.
You will find it hard to find a better student trumpet on the market, not jsut for all the great accessories it comes with but the low and reasonable price. Most student trumpets cost a small fortune, compared to the Student Gold Bb Trumpet School Package. For this very reason most leading musicians and tutors will recommend this product.
This Student Gold Bb Trumpet School Package with Case Music Stand and Cleaning Kit is designed to provide excellent tone quality & performance. This Package includes:
Gold Bb Trumpet
Lightweight Trumpet Case
7C Trumpet Mouthpiece
Portable folding Music Stand
Trumpet Cleaning Kit
White Gloves