Yamaha Trumpet Bb YTR 2330S Standard Silver Trumpet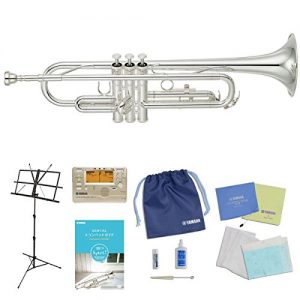 Yamaha Trumpet Bb YTR 2330S Standard Silver trumpet
The two-piece bell of the Yamaha YTR-2330 trumpet is crafted using state-of-the-art production methods, resulting in a consistent, vibrant tone. The balanced weight and addition of an adjustable third valve trigger allows for a natural hand position and promotes proper playing technique, while the water key on the third valve slide adds to the ease of use and overall playability of the instrument.
Tone: B ♭

Bell: 123 mm

Bore size: ML Shape / Other Bell: YL-ll Bell

Comes with a TR-11B4 mouthpiece and a case
Either a semi-hard case or hard case included.
All in all, a great trumpet, with fast delivery too.