Yamaha YTR-2335 Bb Trumpet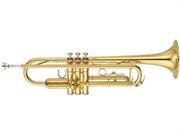 ---
Get The Best Deal
See Special Price
$1,039.00
---
The Yamaha YTR-2335 offers many of the features you would find on a professional trumpet at a student trumpet price. A professional style bell and bore size are just some of the features that make this the ideal model for beginning students.
Honed pistons:
The YTR-2335 has a precise fit between valve casings and pistons after honing means no air leakage.
Pressure-formed tubing:
Perfectly rounded tubing results in less turbulence and a smoother air flow, thus allowing for an excellent scale and reduced resistance.
Laser-fused pluzuma welded bell:
A high-energy laser fuses the brass together for a virtually seamless bell which allows continuous even vibrations.
Nickel silver at stress points:
Nickel silver is a very strong material, and when used at stress points, makes the YTR-2335 far more durable.
Delrin one-piece valve guides:
Delrin one-piece valve guides are durable and quieter than metal valve guides. First valve slide thumb hook assists in intonation.
YTR-2335 Specifications:
Standard Bb Trumpet
Bore- ML 0.459″
Bell Diameter 4 7/8″
Yellow Brass Body and Bell
Includes Deluxe Case and 7C Mouthpiece